There are just not enough adjectives to describe an athlete that has represented his or her country in 6 Paralympic games. Think about that? Not many people can say that they sustained a physical peak for more than 24 years, but that is exactly what Mexican racing legend Saul Mendoza has accomplished. For those of us who have reached the highest level of competition it is clear that between travel, a personal life and the demands of training that keeping it all together is no easy task. In many ways it is staggering to consider that Mendoza's athletic career goes all the way back to the 1988 Seoul Paralympic Games, where he captured 2 bronze and a silver medal at only 20 years old. As stated in a previous article, Saul was the king of the Los Angeles Marathon course, winning that race an unmatched 7 times. Mendoza had a very solid arsenal when it came to his prowess on the road including a blistering sprint. When combined with his nearly unparalleled hill climbing, other racers knew that if he was close in the final stretch that he had a solid shot at breaking the tape first. What was equally impressing was the way he maneuvered his chair around the track. Using his track savvy he always kept himself in a spot where he often used that speed to emerge from a top tier group of racers to capture the win.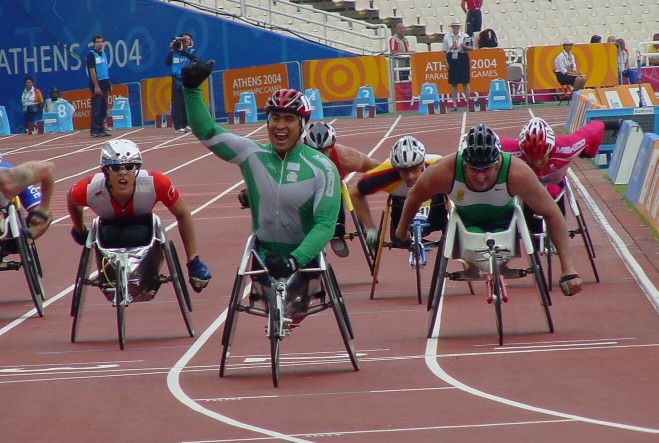 Mendoza Capture Gold in Athens!
Now 52 year old Mendoza finds that his athletic career has lead to many other fulfilling endeavors and is particularly proud of his work with wounded soldiers who have recently come home with injuries. As he reflect on his greatest achievements one stick out as most significant in his mind. "The most important win of my race career was winning the Gold Medal at the Sydney 2000 Games in the 1500 meter exhibition event" said Mendoza. He went on to state that the victory was so global in nature that he was invited to be an ambassador for Paralympic sports in Mexico. "Because that win in Sydney was so historical for Mexican sport that (I) was named Mexican Athlete of the 20th Century." When put up against some of the finest race car drivers and top notch soccer players the world has seen, that say a whole lot about just how committed, talented and recognized Mendoza was!