#8 Andre Viger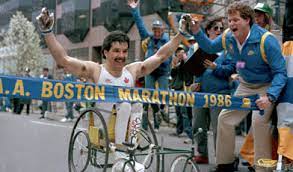 In Tour de France Cycling, legendary cyclist Bernard Hinualt was know as "The Badger" for his extremely aggressive style of racing. Andre Viger simply put assumed that role in wheelchair racing. It seemed pain got out of the way for Andre. Striking his highest level of success at a real turning point in modern wheelchair racing, Viger set a new standard. In 1987 I was lucky enough to race the bulk of the LA Marathon with Andre, and though a relative rookie, he expected me to take my pulls and do the work. Andre had that light around him that made you just want to be better. During the race he might want to rip you in two, but after the race he'd be the first to buy you a beer and relive the day. Viger was a part of that very special first 1500 meter event in Los Angeles 1984, finishing 3rd behind Van Winkle and Randy Snow. His credential were strong winning the Boston Marathon 3x including a course record performance of 1:43:25 in 1986. He competed in 3 Paralympic Games capturing 3 gold, 3 silver and 4 bronze medals. In 2013 he was inducted into the Canadian Sports Hall of Fame posthumously. His contributions and impact on the sport of racing live on to this day.
#7 David Weir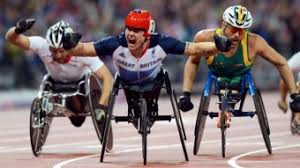 Of all the racers on this distinguished list I never had the opportunity to call a race that David Weir was in. He had his highest levels of success on the road winning the London Marathon 8 times! In 2010 he won the New York City Marathon, ending a 4 year winning streak by course record holder, Australian Kurt Fearnley. When looking at Weir's Paralympic stats what really pops out is his extraordinary performance at the London Games in 2012. On his home turf he completed the wheelchair racing trifecta capturing Gold in the 800, 1500 and 5000 meter races on the track. The only way he could possibly eclipse that was to win the Paralympic Marathon, and he did beating the best in the world. This may be the single greatest body of work by any Paralympian in the modern era. Over the course of 3 Paralympic Games Weir pulled in 6 gold, 2 silver and 2 bronze medals. In 2013 David Weir was appointed Commander of the order of the British Empire for his charitable and civic work.
#6 Marcel Hug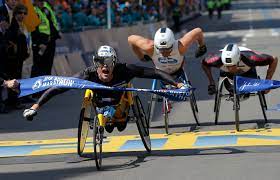 At only 35 years old Marcel Hug is on the cusp of rewriting the record books. Though it feels like the Swiss racer has been on the scene forever, he is starting to elevate the game to a place we could not image. In all likelihood between Hug and 22 year old phenom Daniel Romanchuk most records standing in long distance racing today, will fall. The only thing harder than placing Hug in the 6th slot, was not pushing him up further in the rankings. His body of work has been substantial. 10 total world championship medals, 8 total Paralympic medals, gold in the marathon and the 800 in Rio, 3 victories at the New York City Marathon and 4 consecutive wins at Boston! In 2017 Hug pushed his way to a record time of 1:18:03 in Boston. At only 35 years old, having already built a resume not many could imagine, it was easy to say Marcel Hug earned his spot in the top 10 racers of all time.