By Jeff Adams
In 1988, I was only 17 years old when I made my first Paralympic team – selected to compete for Canada in Seoul, Korea. This is a short story about my journey to qualify for the Games, and my experience racing at my first major international competition.
Classification System
At that time, there were 7 categories for wheelchair athletes in track – class 1 was for quads, subdivided into three sub-categories, and there were four separate classes for paras, with another class with a regrettable name of "les autres" (French for "the others"), for anyone else racing in a wheelchair that did not have a spinal cord injury. It made for a lot of possible spots at the Games, because each country could theoretically send up to three athletes in each class, for each distance. It also diluted the competition badly – all the athletes in the para division were split into four different classes for every event, and the amp athletes competed separately too, in "les autres". To compare "then to now", in 1988, the current T53s would have competed in class 2, and the T54s would have competed in classes 3, 4, 5, and "les autres." Most of the para racers fell into either the class 3 or class 4 categories – in Canada, we didn't even have anyone racing in class 5 at the national level.
Part of the reason for the number of divisions on the track was because at that time, steering of any kind was prohibited. Many of the chairs at the time didn't even have compensators – just trailing castors that functioned in the same way as the front wheels on everyday chairs. Some had handles attached to the forks, providing rudimentary manual steering, but even that was technically prohibited by the track rules at the time – the way the rule was being interpreted by the international officials, using any mechanical device that was engaged manually to steer was prohibited. All this meant that even a little bit more functional ability made a huge difference, making the multiple classes necessary. To get around the turns, you either had to push harder with your outside arm, or if you had enough functional ability, twist your torso to kick the front end to the left.
Racing as a Junior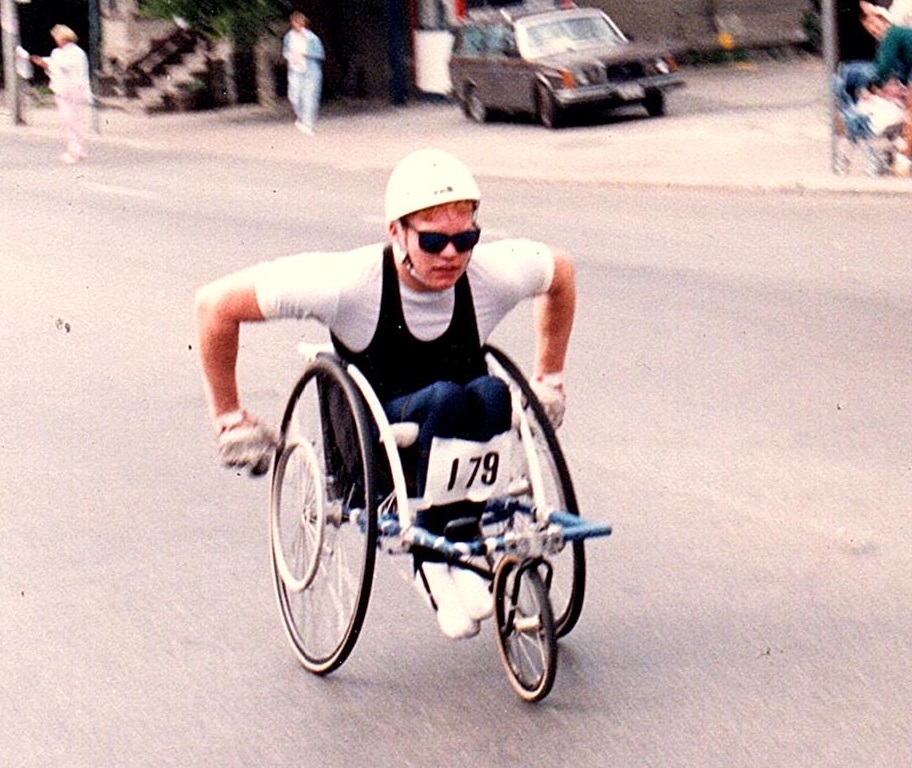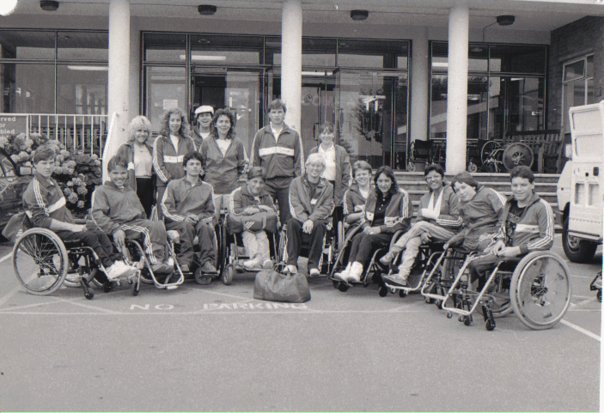 My only other international experience had been in 1986, as a junior athlete, in Nottingham, England, at the world youth games where I raced on the track, and competed in swimming events. I had been selected based on regional competitions in Canada, where I had been showing potential, but any success I enjoyed was based entirely on natural ability, and fitness I had from playing wheelchair basketball in a mens league. I didn't have a coach, didn't know anything about how to prepare for endurance events, and when I showed up in Nottingham, it showed – I finished last of all the racers in the 800m and 1500m races, and was lucky that I didn't drown in the pool.
The head coach took me aside, and I candidly told her that I had done little to no training in preparation, other than playing basketball regularly – it was a short conversation, and she was clearly not happy that I hadn't taken the event more seriously. Over time, I would come to understand just how angry she was.
It made me take a hard look at myself, and the other racers who had beaten me. I talked to some of them about what they had put into preparing for the event, and was blown away – they had been training their asses off. It was a wake-up call I needed, so when I got home, I asked the track coach at my high school if he would help me to start training correctly. I continued to be successful at the local and provincial levels, and set my sights on the upcoming Canadian national trials for the 1988 Paralympics.
The same head coach for the junior-level athletes in Nottingham was the head coach for the senior national track and field team too, so I called her and asked what I needed to do in order to be selected to compete at the Paralympics, and her answer was short and not so sweet: "As long as I'm head coach, you're never going to make another national team." I was devastated, but my coach got a copy of the qualifying standards that had been published by the Canadian Wheelchair Sports Association, and we discovered that the selection criteria said that the winner of each distance would be automatically selected, with any further spots to be selected at the discretion of the head coach.
In short, I had to win if I wanted to make the team.
Training to Qualify
We got our hands on a set of rollers, and installed them in the basement of my parent's house, in the only place available – right next to the furnace. I know that lots of places have been nicknamed the "training dungeon", but man, if any place deserved it, it was this one. I trained every day that winter with the furnace blasting on and off, and pictures I cut out of Sports 'n Spokes of the Olympic event that had been held in Los Angeles in 1984 taped to the wall in front of me for inspiration. Three Canadians had competed there – Andre Viger, Mel Fitzgerald, and Rick Hansen. Andre took the bronze behind gold medalist Pol Van Winkle from Belgium, and the legendary US athlete Randy Snow, who grabbed the silver. When spring finally came and I could get back outside, I was in better shape than I had ever been in, and was doing times in training that I hadn't even dreamed of.
Although I ended up being a competitor and rival for many years, Andre became a great mentor to me, helping me even as I gradually narrowed the gap between he and I and became a legitimate contender when we raced. He was the epitome of a great athlete – he would do anything necessary to beat me, but genuinely wanted to help me be the best I could be, because he knew it would push him to be better too. I tried as hard as I could to emulate that during the course of my career, training with my competitors like Scot Hollonbeck, Jean-Marc Bercet, Kurt Fearnley, and Ernst VanDyk, sharing tips about training, technique, and equipment, and building gloves for other athletes when we first started using solid gloves.
I had been classified as a "class 4", and at the Canadian national trials I competed in that category. To the complete astonishment of just about everyone at the event, I won both the 800m and 1500m races. I'll never forget locking eyes with the head coach in the cool-down after the 800m. The look on her face made every minute of agony I had gone through next to that furnace worth it. When the final team list came out, I had been selected, but "bumped up" to a class 5. We protested without success – her answer was that the way the selection rules were written, I had to be automatically selected to the team, but it didn't say it had to be in a specific class. I guess she was still mad from Nottingham, or just didn't like me – maybe both.
Today, athletes can have a ton of procedural and legal options to have disputes heard by special arbitration tribunals that specialize in sport disputes, but at that point in history that infrastructure didn't exist, and the head coach's decision was final. To this day, it remains one of the most petty and mean-spirited things I've seen in sport.
Her decision meant that I'd be racing in a category made up of the lowest injury-level paras with more functional ability than I had. A lot of them could get up and walk with some combination of crutches and braces, and because steering devices weren't allowed, all of them could get through the turns better than me. I went from putting up internationally competitive times in the 800m and 1500m distances, to looking at repeating my last place finishes at the world juniors.
Technical Elements
At the time, there was a rule that racing chairs had to have 4 wheels, 2 in front and 2 in back, but there was a big push to go to 3 wheeled racing chairs – they were lighter, faster, and in many ways, more stable. For instance, in the 4 wheelers, if one of your front wheels hit a pothole on the road, it kicked the opposing rear wheel into the air, which didn't happen in the 3 wheel version. Most importantly for me, a 3 wheeler made it way easier for me to get through the turns – like 4-5 seconds per lap better.
It was known that the governing body, the International Stoke Mandeville Wheelchair Sport Federation were debating whether or not to change the rules to allow 3 wheelers and steering for the Games in Korea. I took a chance that the international rules were going to change, and bought an Invacare "Rolls" racing chair that was extensively modified by a local athlete named John Boyko. The original design was a square tubular frame that all the other parts bolted onto – even the seating system could be removed entirely – it just bolted onto the frame at four points. It had a rear axle that was attached by clamps and could be adjusted fore/aft to change the center of gravity, and two front wheels that were attached to the frame at the front, again with lugs that bolted to the main frame. The front wheels used a trailing fork design that was basically the same as an everyday chair, but tall and skinny enough that 16" front wheels could be used. It was adjustable, which was great for figuring out a good seating position, but it was hard to keep things from shifting, flexing, and moving, and it was heavy – probably close to 30 lbs.
John helped me put a new seat cage on it that had fewer adjustments, rudimentary fenders, and a clamp that let me run one wheel in the middle, turning the 4 wheeler into a 3 wheeler. It still used a trailing fork to steer, which we put a small handle on top of, so that when I was training on the road, I could reach down and steer. Brakes? Nope. If I wanted to slow down, I would reach back and grab the back wheels – I want through a bunch of gloves in those early days. The modifications made the chair lighter, stiffer, and WAY faster, and gave me the option of running 4 wheels in case the rules didn't change. John also came up with an idea for a steering device that had two adjustable settings, one for the straight, and one for the turns, but didn't have a spring compensator – it just locked the front wheel to go either straight, or to turn slightly left. His design would only be useable on the track, and in testing, if I had to make any radical steering moves, I basically needed to do a small wheelie, and move the frame by twisting my torso. Without the steering device, I basically just leaned into the turn and pushed harder with my right arm, which was much slower, erratic, and very inefficient, as the steering was entirely dependent on the castor effect of the trailing fork.
The Great Divide
A few months before the Games, the national team went to a warm-up meet in Dallas, Texas, where I raced in class 5 for the first time, and got to see some of the different ways that people were getting around the turns. The rules had just changed to allow 3 wheelers, and created a divide among the athletes – almost all agreed that the rules should be changed, but it was the timing that caused the controvercy. There was a massive debate about whether the 3-wheelers would be allowed to be used at the meet. A lot of athletes had decided that it was too close to the Games to switch equipment, and were essentially stuck with using 4 wheelers – some of them were arguing against allowing 3 wheelers. I had both front ends with me, and remember changing from 3 wheels to 4 and back again a couple times as rumours swirled about whether we were going to be following the international directives, or playing by "Texas rules." In the end, the organizers decided that they'd follow the rules that would be in place in Korea, so it was a go for the 3 wheeled race chairs.
The next issue was steering, which saw a much greater divide among the athletes. Most of the US racers had some kind of steering system on their chairs at the time, as road racing was predominant and the need to steer on fast downhills had created the impetus to design accordingly. There were a number of different designs, some quite advanced for the time with tie-rods and springs, and a few of the athletes had set-ups that let them set their steering to help them get around the corners.
The rule against steering was arbitrary, stupid, and made racing more dangerous. It was created by administrators who were almost exclusively non-disabled, who had never raced, and who insisted it be upheld for no good reason other than tradition. Adding to the problem was that rudimentary steering had been at least tacitly allowed in track racing in the US for a few years, whereas in Europe, the rule was very strictly enforced – racers weren't even allowed to touch the front ends of their chairs during a race. Canada was somewhere in the middle – Andre Viger had come up with a design where the front wheel was attached with a really complex mechanism that let it "flop" over, leaning to the left and pulling him through the turns. He didn't have to touch it to engage it, he just shifted his body weight to get it to either flop, pulling the chair to the left, or to sit straight up and down. It caused the officials no end of trouble, because it didn't technically break any of the rules, and in the end he was allowed to use it.
Why did some athletes support the rule against steering? Because it gave them some amount of advantage. A lot of European athletes didn't compete in road races, training specifically for the track, and had developed techniques to get around the turns – they felt that the advantage they had worked really hard to develop would be reduced. The classification system was a factor too – athletes who were "borderline", meaning really close to being in the next class up had an advantage over athletes who were closer to the classification below. I was the perfect example, having been "bumped up" a class – steering would have meant that the advantage that the class 5 athletes had over me would have been reduced, or even eliminated.
That meet in Dallas was the first time I saw a technique racers referred to as "hipping it" around the turn. They had locked the front wheels to only go straight, and in between strokes, would lean back while twisting their torso to the left. This took weight off the front end, letting them pick it up, and the twisting motion repositioned the front end to the left, making micro adjustments to steer through the turns. It was essentially the same way that racers currently make slight adjustment during races without touching the steering, but it was in between every push, and for the entire turn – not easy to do, and exhausting. We had arrived a few days early, so I had some time to experiment – I put the steering device that John made me on the chair, keeping it in the locked straight position, and tried this new (to me) technique of "hipping" the chair through the turns. I realized that it was essentially how I was making small steering corrections already, and quickly got the hang of it.
Final Prep
When I got back home, I went back to John Boyko and asked him to modify the steering device so that I could engage it without touching it, assuming that it would be allowed in the same way that Andre's set-up was. What he came up with was pretty simple – we just tightened the fork until it would "stick" in the position it was set to, and put stoppers that provided two positions – straight, or turning left. I would "hip" the chair while keeping weight on the front wheel, which would wrench it back and forth between the two positions.
I trained my ass off that summer and into the early fall, indescribably excited that I was on my way to the first ever Paralympics to be held in the same location and using the same competition venues as the Olympic Games. For organizational reasons, the Olympics were being held quite late in the season, from September 17 to October 2, with the Paralympics not starting until October 15. This schedule created an unusual dilemma, because I was supposed to be starting my senior year of high school that fall. With the help of my mother who was a school principal in the same district, I was allowed the time off school, but had to attend class up until the day before the Canadian team left for our staging camp in Los Angeles in early October. I had been able to arrange my classes to take an extra spare in the morning, so I was getting up early and training before grabbing a quick shower and getting to my first class that started in third period. It probably goes without saying that my school assignments didn't get a whole lot of attention that September – but I was showing up, which kept everyone in the administration happy enough.
Staging Camp
The Canadian team had decided to hold a week-long staging camp in California for a week before leaving for Korea, so we all flew out, and stayed at a hotel that was close to a track. These were the days when kids were getting lines and designs shaved into their haircuts, and another red-head member of the team, Kevin Gardner and I decided that we should get our heads shaved, leaving only Maple Leafs on top. (Remember, I was seventeen at the time, and at that time, it seemed like a really, really good idea).
We were staying in Inglewood, near to the Forum, and went out in the middle of the afternoon, looking for a barber shop that would do the work for us. We came upon a place called the "Star Beauty Bar", and went in. It was like a needle got dragged across a record. Everything stopped when two red headed dudes in wheelchairs just wandered in – I'm fairly certain that we were the only white customers that had ever been in the place. We explained what we wanted, and one of the barbers confidently told us that he could definitely shave Maple Leafs into our heads. Kevin told me that he'd pay for the haircuts if I went first, and sucker that I was (and based on the supreme confidence the barber exuded), I agreed.
We had brought a template of a Maple Leaf for reference material, and the barber looked at it, and started cutting my hair with clippers, going down to the skin with the shortest setting. Halfway through, a woman walked in, looked at me, looked at him, looked at me again, and said: "What the hell you doing to that boy? Is he getting a weed leaf put onto his damn head?"
Kevin went second, the barber actually used the template, and he ended up with what looked exactly like a Maple Leaf on his head – I spend the next three weeks explaining what had happened to me, and why I had what looked exactly like a weed leaf, off center slightly to the left on top of my head.
When we left, it was late afternoon, and the sun had started to go down as we were wheeling back to the hotel. A few blocks from the Star Beauty Bar, a police cruiser pulled up next to us, and an officer leaned out the window and asked us what the hell we were doing. (Inglewood was a rough part of town in the late 80s). We told them that we had just got our hair cut, and were on the way back to our hotel, which was about a half-hour away. They looked at each other in disbelief, got out, ordered us into the back of the cruiser, and drove us home – when we pulled up at the hotel, there were a bunch of athletes hanging out at the front, and the looks on their faces when we pulled up in the back of a cruiser was priceless. Once we got out and told them our story, the entertainment value of my haircut quickly became evident based on the peals of laughter from my very unsympathetic teammates.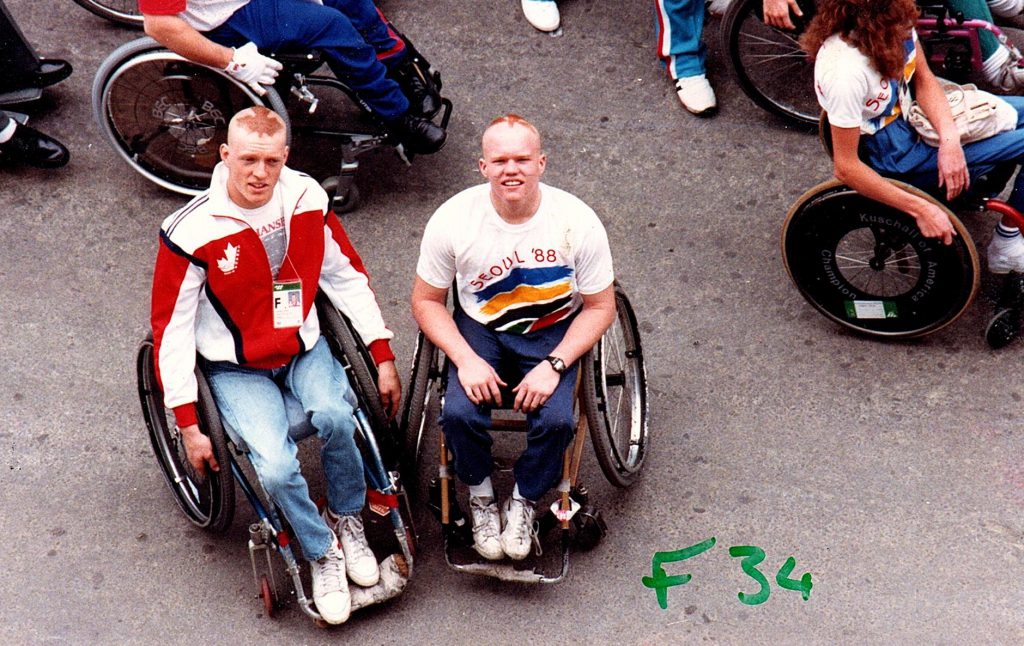 The Athlete's Village
When we finally go to Korea, we were assigned rooms in the athlete's village – the Canadian team had three athletes in each room, and I was assigned to bunk with Kevin Gardner, and Paul Johnston. Kevin was racing in class 4, in the 5,000m and 10,000m races, and Paul was a class 3 sprinter – 200m, 400m, and 800m. He was possibly the most laid-back athlete I've ever met, and hilarious, with a Jeff Spiccoli from Fast Times at Ridgemont High delivery for his regular speech pattern.
The design of the building was one of the most interesting I've ever seen – it was about 10 stories high, and had ramps on the outside of the building that went to every floor. We were staying on the 7th floor, and with only 2 elevators in the building, we often ended up taking the ramps, because it was virtually impossible to get an elevator. There were some epic crashes with people bombing down the ramps, and turning a corner only to smash into someone on their way up.
We were on one of the higher floors, and the US Team would have regular meetings in the compound, directly beneath the unit we were in. A few days after we arrived, Paul came up with the idea that we should fill a few of the condoms that we had been given in our arrival kit with water, and drop them on the US team during their meeting from the balcony of our unit. You'd be surprised at how much water a condom will hold.
We ended up dropping three watermelon-sized water balloons onto the US team, with mine scoring a direct hit on David Kiley, with Curtis Bell sitting next to him. We ducked down behind our balcony, but I guess it was pretty obvious where the water bombs had come from, because later that morning, a bunch of the US basketball athletes broke into our apartment, and soaked everything in it with the hose from the shower – we literally had like an inch of water everywhere in the unit. This kicked off a lifetime grudge between Kiley and me, which is a whole 'nother story in and of itself.
The Competition
We were able to train on the competition track a number of times before the competition, and I had my three-wheel set up with my track-specific steering device in place. The training days were a good chance to check out the competition, many that I'd never seen before. The top racer in my category was a guy from Switzerland named Franz Nietlispach, so I tried to time my training sessions when I knew the Swiss team would be training too, so that I could do some reconnaissance on him. I shadowed him in training, trying to see if I would be able to stay with him in the races, and was surprised at how close I was – he was definitely faster than me, but not by much. I guess he did some of his own research on me too, because a couple of days before the competition started, we were told that a protest had been lodged against me by the Swiss federation because they claimed that my steering device was illegal.
We had the opportunity to dispute the protest, and present a case to the officials to allow me to use it, which I think it would have been successful, because my device worked in exactly the same way as the one that Andre had built and was allowed to use. The only difference was that his moved vertically, and mine went side to side – neither of us had to manually engage the devices, and so on a technical level, they should have been judged to be equivalent. The road block for me to try to have it approved was the head coach, who refused to defend against the protest, so I was stuck with using the clamp I had that didn't have steering incorporated into it.
I had a decision to make – use the trailing fork as it was designed to be used, where it could pivot and steer the chair left-to-right depending on pushing harder on one side of the chair, or lock it down into the straight position, and hip it around the turns. In the end, it was Andre who gave me the advice that I went with – I locked it into a position that made it turn slightly to the left – it helped me in the turns, and I only had to fight it slightly in the straights. It wasn't ideal, but it was what ended up being the fastest option for me.
In Seoul, we raced the distances in order, so the 100m went first, 10,000m last, just before the relays were held, which ended the competition. I remember being incredibly nervous before the first round of the 800m, because it was the biggest competition I had ever been in, and I just didn't know the other athletes I was up against, or how fast they were. I ended up winning the preliminary round, and moved on to the semi-finals, where I would race Nietlispach for the first time.
To qualify for the final, they were taking the top three from each semi, and the two fastest times. The gun went off, and I bolted to the front – after about 350m, I pulled over and checked my shoulder – I was on a small breakaway with Nietlispach, and I thinking that all we had to do was stay away from the chase pack and we'd qualify for the final. As I pulled over, I said: "Come on, lets go!" – I remember him looking at me with some mixture of surprise and contempt, and then put his head down and just went away. I chased him as hard as I could, but he just kept getting further and further away. I ended up second, and qualified for the final, and it was the first time I ever saw 18 miles an hour on my speedo – my top speed ever on the track by more than a mile an hour.
My roommate Paul was at the stadium to watch the race, and I'll never forget meeting up with him at the warmup track afterwards – the first thing he said to me in his Spiccoli-like drawl was: "That big fella really fucked off on you in the last lap, eh?"
Andre took me aside and helped me with strategy – his advice was to not try to get to the front immediately, but to try to get behind Nietlispach as soon as I could, and draft him for as long as I could – his suggestion was to try to stay there until there was 150m to go, and try to out sprint him.
I executed the plan to perfection – starting just fast enough to get in front of most of the pack, and settled in behind Nietlispach, drafting him for the first 600m. He accelerated with 200m to go, and I was able to stay with him – at the top of the turn, with 150m to go, I started to move out to try to pass him and sprint to the finish, but there was a wheel in my way. Another athlete, John Anderson from the US had also stayed with us, and was now blocking me from trying to pass in lane 2. He gradually passed me on the outside, and got to about halfway up Franz's back wheel, and that's how we finished – Franz won the gold, John took silver, and I got my first ever Paralympic medal, a bronze in the 800m.
We repeated that in the 1500m final, and I left Korea with two bronze medals, and a burning fire in me for racing, and the Paralympics – the training brought out the best in me, and I loved the pressure of competition. I loved preparing every day to test myself against amazing athletes from all over the world, and I wanted so badly to be on the top of the podium. I spent the next twenty years chasing that top spot, and watching the Paralympics grow up from a fledgling event that a lot of athletes payed out of their own pockets to go to, to the current iteration, with full-time professional athletes who have raised the level to an extraordinary level.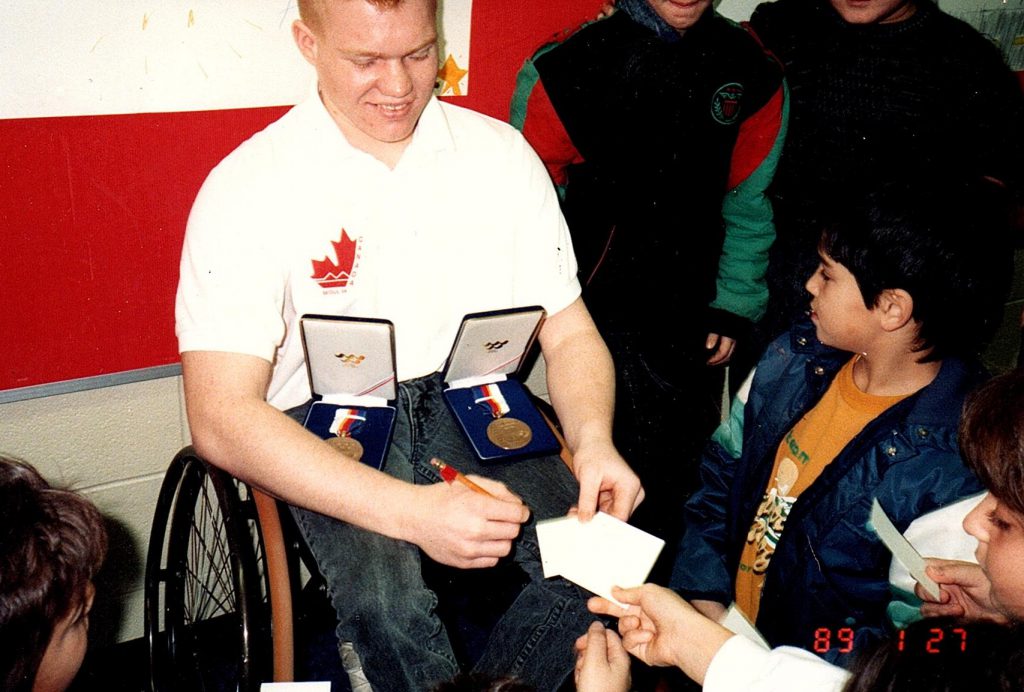 The 1500m event was also the demo event at the Olympics, so I was able to race at both competitions. I always found the differences in the competitions fascinating – the Olympic motto is "Higher, Faster, Stronger", where the Paralympic motto is "Mind, Body, Spirit" – both valuable motto's, but distinctly different. In 1992, I competed in my first ever Olympic event, as well as the 1500m at the Paralympics, and if I had been forced to choose between one of the two, I would have unquestionably chosen the Olympics. Today, that decision would be different.
I had the amazing opportunity to compete at the first ever Paralympics to be held in the same city and use the same venues as the Olympics, and the privilege and honor to watch the Games and movement grow up and expand into what it is today. I'm honored to have been a part of it, and proud of where it has gotten to.
I hope this short story helps provide some context to the history, and makes it obvious how grateful I am for everything being a part of the Paralympics and Paralympic Movement did for me, as an athlete and more importantly, as a person.