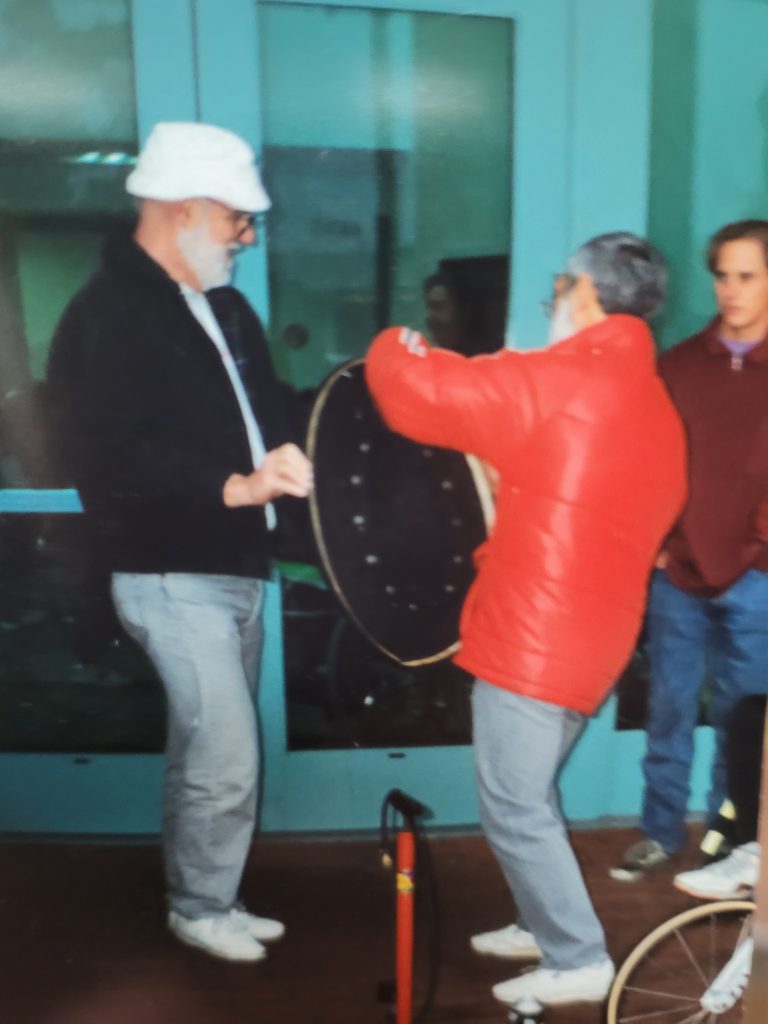 My first thought as I sit down to write this is what a terrible photo of two men who were both my friends and who had more of an impact on our sport than most will ever know. Our relationship began very ironically, and beyond that almost never began at all. 1989 was a very busy year for me. I was racing competitively, starting a career in TV, had just come on board with the LA Marathon as a coordinator and the list goes on. Doug and Jerry had read something about me in the LA Times and wanted to meet me. They found me through a friend of a friend who asked me to meet up with them at their shop in Sherman Oaks, CA. Now for those of you who don't know the California freeways that's up the 405, past LAX to the 101–(made me think of that SNL Skit, "The Californians") What I'm saying is that it was a long, long way, up a clogged freeway and I was not really wanting to do it. But seeing as my girlfriend at the time set this up, I went. It was by far the best decision I ever made. Doug and Jerry were the most genuine and wonderful people who would just take the shirt off their backs to help anyone, and I mean that. Doug was a world class pattern maker from the days before auto cad, and Jerry was a first class machinist. If you needed some obscure part for your 1950 Studebaker, well he could craft it. They immediately feel in love with the race chair technology and were just enamored with the dedication that we put forth athletically. Boy I can still remember their shop. Doug had one half that was constantly littered with dust and wood shavings. The other half littered with oil, metal shavings from the lathe and various rare engines that Jerry collected. The shop had a peculiar odor I can still pull up when I think about it. I spent many days there either fixing and working on my own race stuff, or helping them with the design and building of the roller.
They shared this shop in a fairly sketchy part of town for more than 40 years. Though they were both doing their own things, they collaborated on projects now and again. It was located in a real "Gasoline Alley." As you entered the compound of shops and noticed the barbed wire surrounding the roof area you knew this was not a place to get out of line in. It was a very eclectic group that owned spots around the compound ranging from upholstery guys, to motor heads who probably just needed a place to store crap they didn't want to have at home. This is a little edgy, so if you squeamish, look away now– there was this one guy who had a motor shop who also worked as a set man for some of the XXX producers in town. If for some reason you are unaware, the San Fernando Valley/Sherman Oaks is XXX haven. This guy had more movies stacked in his shop than anything else. Everybody looked out for one another there. I remember Jerry working on a race chair for me in 98 before a Boston and it got seriously late, like 2 in the morning. (They were that kind of loyal men. Call them and they were there for you–period.) There was a Rave going on in the compound behind us–I mean a serious rave complete with drugs and hardcore people. We locked the door that night. We ate lunch at one place, and I mean one place only. Country Folks diner. About 12:30 various people would just roll in. There were times we had some lengthy bullshit lunches that were very funny. These guys had a lot of eclectic and interesting friends that joined us from time to time.
So now comes the roller. I think I thought of this because I saw Jacob Heilveil on one in a facebook video clip not long ago. They made a really top notch roller, complete with a light fast drum on the front and heavier drum on the back for longer workouts that carried momentum. They had this idea to hook the roller up to an electronic system that being produced by a company in Seattle, that was producing them for competitive cyclist. Me, Doug and Jerry boarded a 7 am flight out of LAX to Seattle one morning to meet with them, and the only reason this really stick out in my mind is due to the fact that it was as close as I came to being in real trouble in a jet. So we are all in the front row, them asleep and I'm just filtering through a magazine when I notice the "red manual" come out. The flight attendant told me that there was an indicator on in the cabin that suggested that the landing gear might not lock upon landing. I nudged the boys awake as we did a low flyby on Seattle. They literally had people looking with binoculars to see if the gear was down. I swear, that pilot pulled out all his skills and laid that jet down on the runway like it was a feather to the applause of those who lived to tell the tale! Anyway, they never did get the proper adjustments made to compensate for the wattage difference between bikes and chairs. But the rollers on their own really raised the bar on indoor training. Ask any racer who lived in a winter climate just how important they were to early season success. You could wind these rollers up to 25-26 mph.
I introduced the boys to Nan Harman, LA Marathon Chair coordinator, creating the first on course pit crew. These guys really knew what to do. They had tires donated to them from Jimmy Green, at Sportaid. They would inflate the tires, stretch them, put a fine bead of glue on the tape and have them ready if you flatted. Rain or shine for nearly 10 years they did this job for love, love of the sport and love for the racers. If you haven't determined this as of yet, I though the world of these men.
About 4 years ago I saw a call come in on my car display–it was Doug. He would frequently contact me if he was close by and we would spontaneously meet up for dinner. This time it was different. Doug had been diagnosed with Cancer and it was not to be fixed. He came to my home, we ate steaks, drank some wine and reminisced about our nearly 25 year friendship. When he left that night we both knew it was the last time, but we were complete. Jerry and I have seldom had the chance to meet up because of that damn drive, but when I get done posting this I'm giving him a call. So there it is, two men you may have never met, but behind the scenes that play a significant role in our success. It all may never have happened if I didn't get in the car that day. That was one of the best decisions I ever made.