Story and Photo, Mary Carol Peterson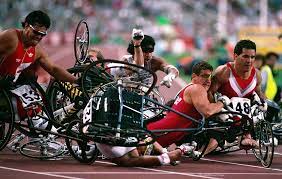 So in the Barcelona '92 Paralympics 5000m men's final, I was stationed in the "moat" area which is below track level, designated for photographers (I had credentials from Sports and Spokes) on the first turn. Back then we did not have digital cameras but I was shooting Nikon with 1600 speed film to accommodate for the low light since it was like 9 pm. 
I only had 4, I repeat, 4 frames left on my roll of film and on the bell lap right in front of me while I was standing in the moat with my camera ready to go. Then it happened: 
As the pack approached turn one, so very close together there was a crash and everyone was just went flying. I used the last 4 frames on my roll of film to capture this!
Only a few athletes who were at the front of the pack, were able to finish. The most fun was to show the photo to Andre, who had told Marc Quesey that he was holding on to him to prevent him from moving, which Marc denied, as proof! I was just glad no one was more seriously hurt. Andre did finish I think in 4th, but went on the next day to win! I will never forget that experience!