Yes, I'm whining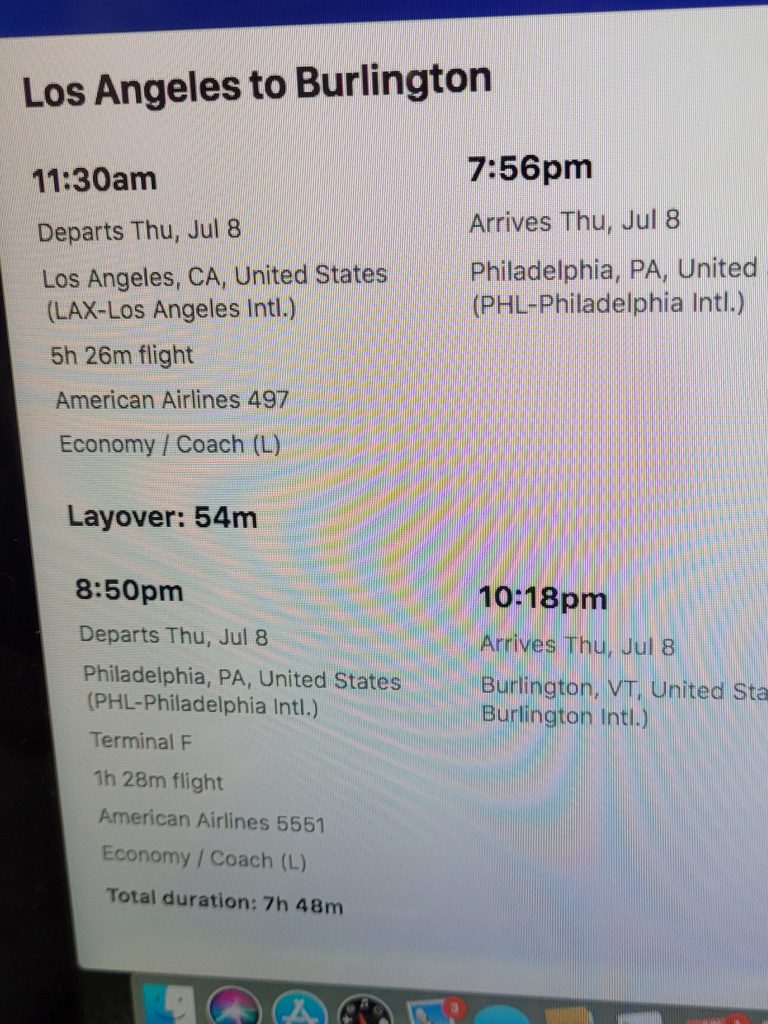 I think writing this is as cathartic much as it might be semi entertaining, at least to those of us who have many travel miles under our belts. For nearly 2 damn years we have been cooped up in this Covid hell, baking bread, doing puzzles, binge watching Netflix and getting fat. So when it came time to finally hit the road I decided it would be a trip to Vermont for one of my best friends wedding. Of course I have to have to come from Burlington, Vermont, perhaps the most difficult place on our continent to get to. There is no such thing as a direct flight. The best flight option I used to have was a red eye out of Long Beach, through JFK on Jet Blue. That flight is gone, so the next most logical choice was to go to dreaded LAX. Not only is LAX under construction, it is also a dump and difficult to get to due to at all times of the day in LA traffic. So I book a logical 11:30 AM flight which means I will have to only get up at 530 to assure I will make it. This unbelievable chain of events is just more than I can process right now, so I am purging in hopes of putting it to some place of understanding. Don't get me wrong, I know this is not like growing up in a war zone, but it was exceedingly unpleasant.
The alarm went off at 5:30, but I was already awake just laying there contemplating the day. Travel is unpredictable and I knew that there was a storm threatening the eastern seaboard. As I got into my chair I tore open my little toe on the side of the bed and bled rather profusely. This of course means my leg is gonna spaz on and off all day. Once in the car I started making calls to re-book some of my hotels as I knew I was getting in late. So far so good. We pull up in front of the terminal to learn there is no more curbside check in. My wife quickly pushed my bag to the door, gave me a kiss and I was on my own. Do not under any circumstances expect any help of any kind from anybody in LAX. Its heads down, get out of my way. Bag checked and I move to the rectal examination (aka, body check at the gate entrance.) What do I get, the new guy in training. Lets say, he was thorough and we are now intimately familiar with one another now. There came a point where I was going to ask if he might want to exchange numbers. Finally, on my way to the gate–the first sneeze, its an allergy attack. Now I don't know if you've sneezed in public lately but since covid, traveling with leprosy would get less scrutiny. Over and over I blew my nose on that course airport bathroom paper towel. Still unclear if this was a cold of an allergy thing I just tried to keep to myself and hope it would pass before boarding. Then it came, the dreaded, but inevitable delayed flight. This is the point where I started mentally cashing in this trip. Understand this, I can fly non stop to England 25 times a day in 10 hours, and for just over $600. I can get into Burlington with at least one stop for $700 and it will take 9 hours. It is hands down the worst flying situation on this continent you will find. Like a doctor standing over a dying patient, I called it. More than anything else the concern became sitting all night in Philly awaiting a morning flight if the storm stalled.
Now just how do I get home. My wife is now busy, annoyed and unavailable. It was either an Uber for a hundred bucks or try a friend. My buddy Mike Trujillo came through in a big way. He drove to LAX and though it took a while I felt I would be back home soon–or so you may think. With my bag still winging its way to Vermont I drank a beer, ate a big fat burger with fries to quell my misery. Roughly 3pm I got the text and moved to the curb. Nose running, buss fumes choking me, more noise than I had heard in years and a homeless guy chanting something about the government a few feet away–I waited. As Mike pulled up I felt the end was in sight–silly me. I rolled up his van ramp, hopped on the back sofa and profusely thanked Mike and his girlfriend for doing this. Now were ready for that 2 hour freeway trip home. As we chatted I made the mistake of answering a text and the wave of nausea hit me. There it was, that greasy burger, beer, fries–all coupled with exhaustion and aggravation. I felt bad, real bad. Sweating and that green feeling (why do they call it green?) made me start searching for options as illness felt probable. Mike cranked up the air and I focused on the road. We made it home. If I could have I would have gotten down on my knees and kissed my driveway. I had left my home nearly 8 hours earlier in anticipation of a good time with dear friends. I came home just beat down in disappointment.
In all my years of traveling, for racing, TV, and pleasure I have been stuck in an airport one time. This became one of those time I could not risk it. Travel at 30 is different than travel at 62. Yes, I'm soft and most certainly this will provide some good material to bust my chops with, but my friends I tell you this; I'm still rebuilding the pieces of my broken psyche.