Runner Up; Ernst Van Dyk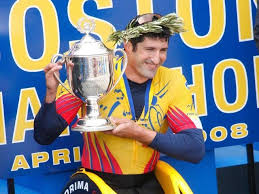 How many of these Sliver Cups from winning the greatest road race in the world does Ernst Van Dyk own you might ask? TEN! That is just insane. Think about this, if he were to live to 100 years old, he would have spent 1/10 of his life training and winning the Boston Marathon. There's a chance this great champion has had to put an addition on his home to accommodate all the hardware he has brought home from his 2 decades of racing success. The kicker is, at 48 he is still going. Take a look at his incredible journey of winning. From 2000 to 2006 he won Boston uninterrupted, then he picked up wins 7, 8 and 9 from 2008 to 2010. And finally he captured an unprecedented 10th in 2014. Most all of his times were in the very respectable 1:25 range except for his 2011 performance when ran a stunning 1:18:51. It almost seems irrelevant to mention other victories on the road, but there were many and they were impressive and significant. Twice he won the New York City Marathon, once in 2005 and again in 2015. Twice he won the Los Angeles Marathon, in 2002 and then again in 2006 setting a course record of 1:24:48. At Peachtree he was the first racer to eclipse 19 minutes in a 10k setting a record 18:48 in 2001. Twenty years later, that time still holds up as the 3rd fastest time ever set on that course. Across the board, Ernst was a 9 (scale of 1-10) in nearly every aspect of what it takes to be successful. He could fly downhill, he could motor uphill and his turnover made him a solid pack racer, rarely being dropped. So what kept Ernst from the top position after all I've laid out here? Simply put–the Paralympic performances. In Athens he scored 2 Silver and a bronze, in Sydney he came away with a Bronze in the 400 and in Beijing he took home a Bronze in the marathon. Certainly this medal count is nothing to shake a stick at, but falls short of the top tier diversity to seizing the top position. Van Dyk was always there, final after final but it was lack of that last second blistering speed that kept him from racking up a bunch of medals. But now here what a lot of people don't look at; this man was and is an iconic dignitary who represented our community with grace, poise and the highest level of honor. Win after win we entrusted him with our image and he did the most to make us respected and legit. Enough said–for his athletic performances and much, much more Ernst Van Dyk has solidly secured his position as the 2nd greatest racer of all time!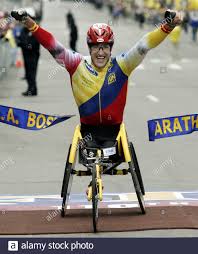 The G.O.A.T
Switzerlands Heinz Frei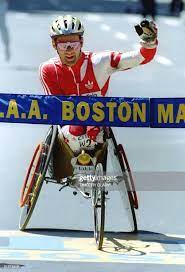 I say this will all reverence, Heinz (dam*)Frei! The reason I say this is because it must have been said a hundred times in races around the world. Every time another racer thought he had it all sewn up, here he comes! How many laid in bed the night before thinking this is a hilly race, "I got him." "There is no way he going to get this one, its a 1500 final, I got him." And over and over and over. If you could hear the other speak with their heart rates at 160 you would hear "damn" there he goes again! This man just did not know how to lose and he defied all odds. I vowed not to weigh into the equation particulars like injury level, ability levels, amputee this and that. But this man did it with less and it was often unexplainable. I have spoken a lot about that sliding scale of 1-10 that makes one racer better than another on a given course. Well, Frei was a solid 8 in every category except for the undefinable, heart and soul. When it came to sheer perseverance Frei was a 20! Oh that and the fact that this guys VO2 Max (or maximum oxygen your body is able to use during exercise) was just insane. Just listen to this guys body of work. 2x he has won the Boston Marathon and in 1994 he set a course record of 1:21:23, lowering the mark by a minute. 3x he has won the London Marathon. He came to Los Angeles and notched another victory on one of the toughest courses I had rolled on in a time of 1:27:10. Now to top it off comes an illustrious Paralympic career. Over the course of 4 Paralympic Games starting in Seoul 1988 he won 11 gold, 6 silver and 5 bronze medals! Keep in mind this is not just T-53 divisional races, this includes the open 5000 meter race in 92 Barcelona, the open 1500 and 10,000 in 96 Atlanta and the Marathon in Barcelona. Here's a story for you all. In 1994 the ESPN show I was co-hosting got permission to shoot the chair race. This is rare as Boston is more of a common sharing feed race. I have seen this race stroke for stroke until it got up on the Boylston Street for the final 800 meters or so. That year I had roomed with Tom Sellers, who took second by about 30 seconds to Frei. Sellers was a great coaster, got away early and carried the lead to about 15 miles, where between 12-15 miles there is a flat-ish stretch. I saw Frei just whittling away at the gap stroke by stroke! He came up on Sellers, dropped the hammer one more time and never looked back. I paused the tape, called Tom and said what happened? He said "I was already going 20 mph, there was nothing more I could do!) It was perhaps one of the single most goose bump moments I had ever seen on tape.
Those who have tried to climb Everest enter what it know as the "death zone." There is no turning back, no second guessing, just you and whether of not you will make it to the top and live to talk about it. Just before heading to the top of the world the climbers move to the "Hillary Step." With daylight disappearing and a storm on the horizon many congregate to talk about potential risks of going forward and even more are concerned with living or dying. While the others had their conversations, one man stepped on by, grabbed the rope, dug in his climbing axe and went to the top. That man in wheelchair racing lore is none other than Heinz Frei!