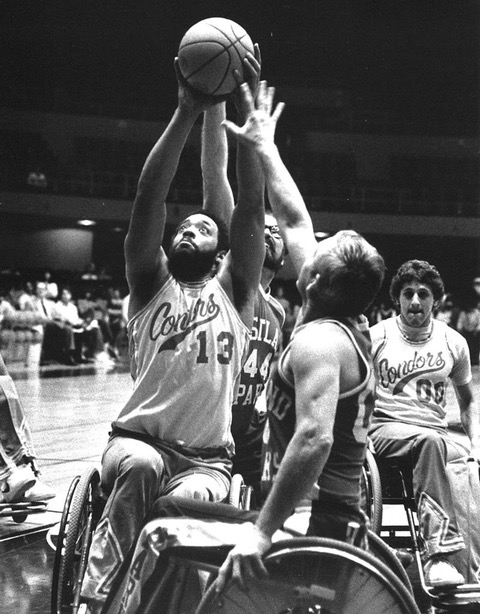 A tough inside player, Bell was an integral part of the dominate run the Casa Colina Condors had in the NWBA.
One of the earliest adaptive sports for disabled athletes is Wheelchair Basketball. It is easy to pinpoint the humble beginnings of this sport to the 1940s and 1950 when the sport was utilized in helping WW2 Veterans have a sporting outlet for both fitness and recreation. At Stoke Mandeville in England, Ludwig Guttmann first introduced wheelchair basketball in 1944. Just 5 years later, Dr Timothy Nugent from the University of Illinois founded the National Wheelchair Basketball Association,(NWBA) and remained commissioner of the league for the next 25 years.
It is stating the obvious to suggest that Curtis Bell knows the game of Wheelchair Basketball. After all, he not only played the game with some of the best in an era, but furthermore did it on the highest level earning 5 league MVP's! He played for the Casa Colina Condors with the likes of Dave (The King) Kiley. He witnessed the game through old timers like Long Beach Flying Wheels, Bill Johnson and has a deep appreciation for players like Dallas Mavericks Steve Welch who have transformed the game with a flashy style of ball not seen in decades past. The one thing you can tell about Curtis Bell is that he has passion for both the players and the game. His accomplishments are nearly too many to list over his fabled career. They include; 8 championships with the Casa Colina Condors, the only man to play on 12 National Championship teams and a 3 time Paralympian capturing Gold at the 1988 Seoul Games. On a side note, after 1988 the USA team went on a drought at the games until winning Gold in Athens 2004, Beijing 2008 and Rio in 2016.