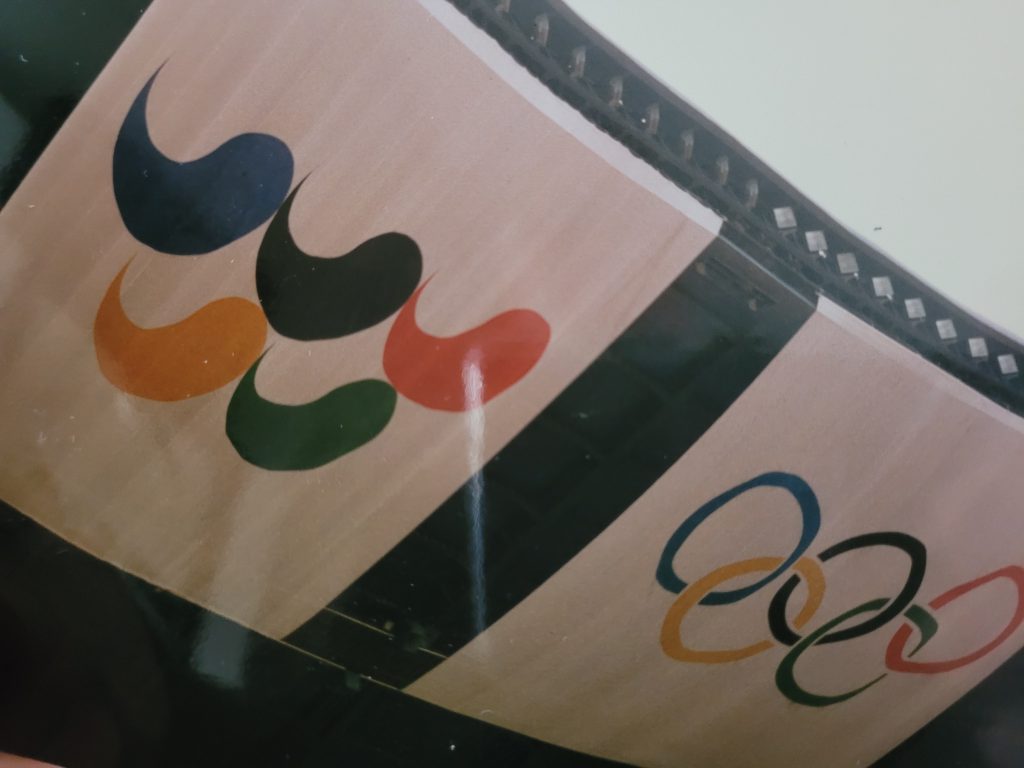 As I sit down to write this I find it a little hard to begin. The Seoul Paralympics, and in general the journey to even get there was so multi faceted. From training camps, to qualifying, competing at Stoke Mandeville, and so much more. It was a very strange ride for me indeed as a relative rookie on the International circuit. Funny thing is the coincidental things that happened to even get me there. This in a way will be a first person journey, however it will account many aspects of the Games and the nature of being part of the early so called legitimate Paralympic Movement. I've gathered up several good photos I snapped along the way and will try to post them in a way that coordinates with the story.
In 1987 I had about 2 solid years under my belt. Luckily I was from Southern California where there was a core group of people who came before me, and were helpful in pushing me forward at an accelerated pace. From my mentors Mike Trujillo and Candace Cable who had been racing to great levels of success for years, to racers like Jim Knaub who had already made his mark winning 2 Bostons in the 80's. The point is, when you have that kind of a core group around you it eases the path of learning. There was no 1-800 number for tires and parts. No real status quo chairs and keeping equipment in one piece was a week to week struggle. Invacare at the time had started a points based series and I jumped on board. I remember one of the races was in Houston and there was a track meet there too, but had no intentions other than to just have fun. Maybe it was because I had no real notion of what this whole Paralympic thing was that I was so relaxed, but I made a mark there. Deep into the team selections already the coaches had no idea who I was. I collected a few medals along the way during that meet and was invited to Stoke.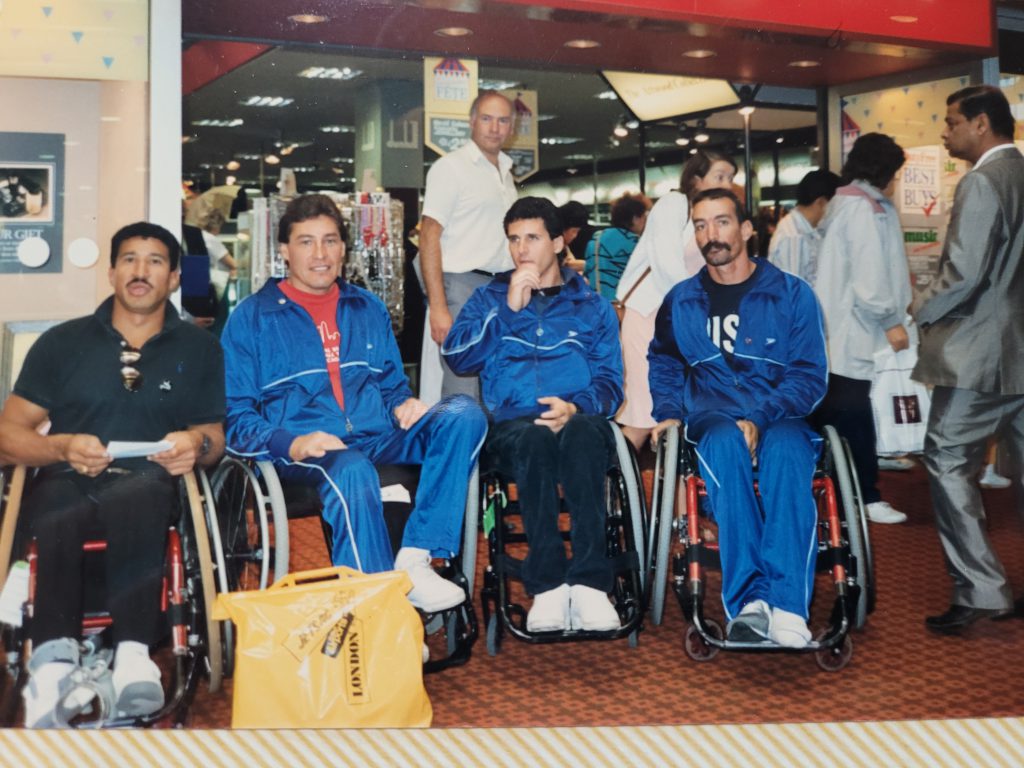 Rafael Ibarra, Mike Trujillo, me and John Anderson leaving Heathrow after Stoke Games.
Stoke was my first time on a track not using a compensating unit or being able to steer through the corners. This is really going back in time in the sport of chair racing on the track that almost needs some explanation to anyone who wasn't there. So, what we were expected to do was essentially "hip" our chairs incrementally through the turns. Now I'm not sure who the sadist was who devised this grand plan, but it was horrific to many of our surgically, curved backs and furthermore pretty bad for our right shoulders. What was really interesting was that we were allowed a combination of bungee cords, track stops and other things to accomplish this task. There were a few who got it down, I was not one of them. First Barry Ewing at Eagle built me a track chair, which I struggled with for 6 months and then Jim Martinson at Shadow made me one too. The end result for me was three 4th place finishes. I remember having a heated discussion about this rule with another coach and I think she said something along the lines of "its just its own discipline."
The journey to Korea was a pretty long, tough and expensive road. Though just starting to fall under the Olympic flag we were still having to go out to solicit money for travel from civic clubs, parents/relatives and private sponsors. My recollection was that the whole journey was about $5,000 bucks. We had qualifiers in the states where we had to make the standards for time, so going to as many track meets as possible increased those odds.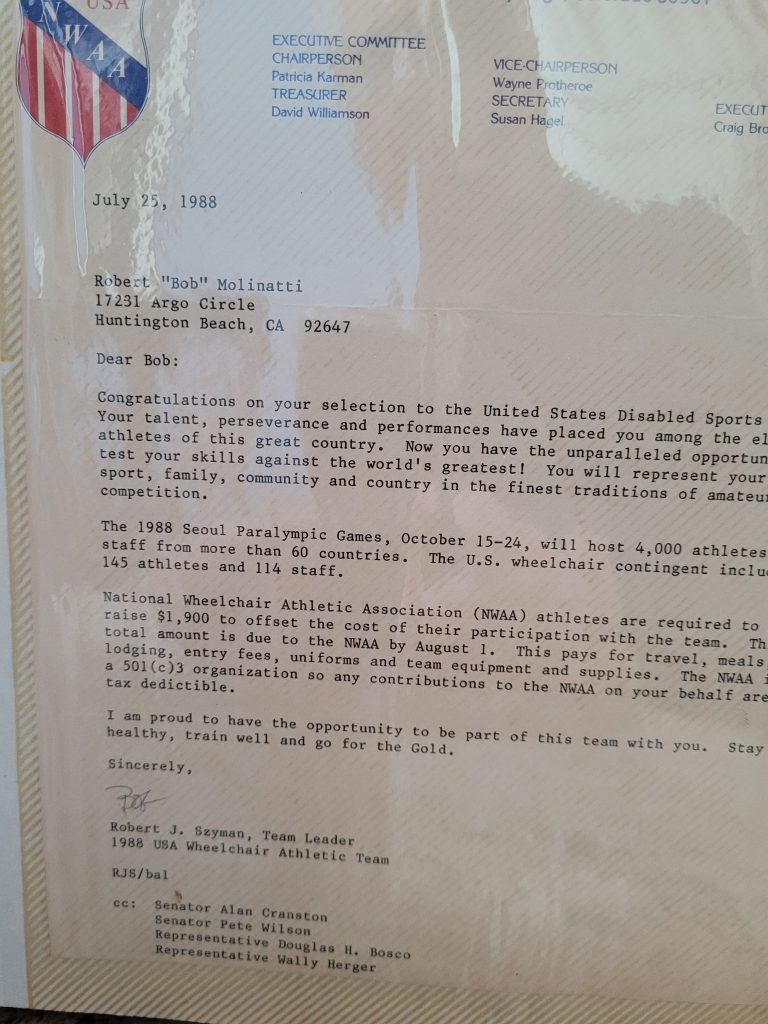 In an attempt to level the playing field we were divided up into many different categories of racers. If you had this much stomach muscle verses that much, or your left toe twitched and the other racers didn't etc. It was a long an ambiguous process of deciding how easily you could navigate turns. I think in the Para classification we had 2,3,4, and les autres (french term for "the others".) That class was dominated by Mustapha Badid. If you wanted to see someone who mastered the corners, he was the go to guy. Mike Trujillo and I used to marvel at his corners often saying it looks like he's just glimpsing up to look at the birds fly by. It may be clear to anyone who actually read this far that I thought personally that this was perhaps the dumbest rule of all time. In a way it kind of illustrated how we as the disabled athlete were still being dictated to by an able bodied population of officials and therapists.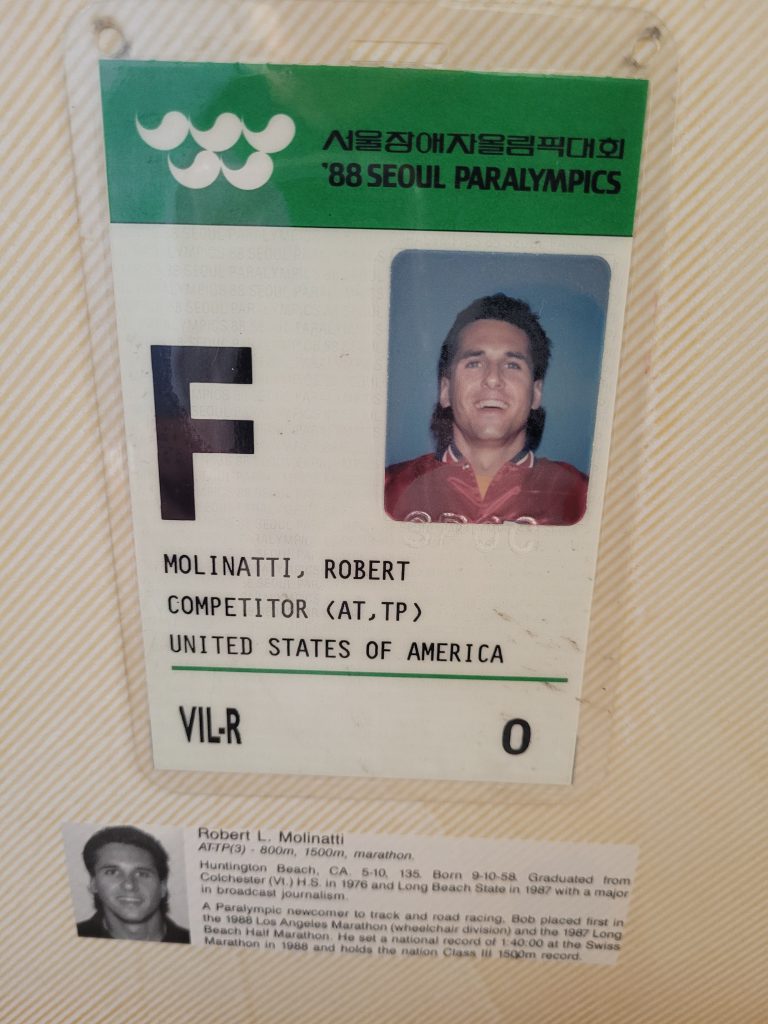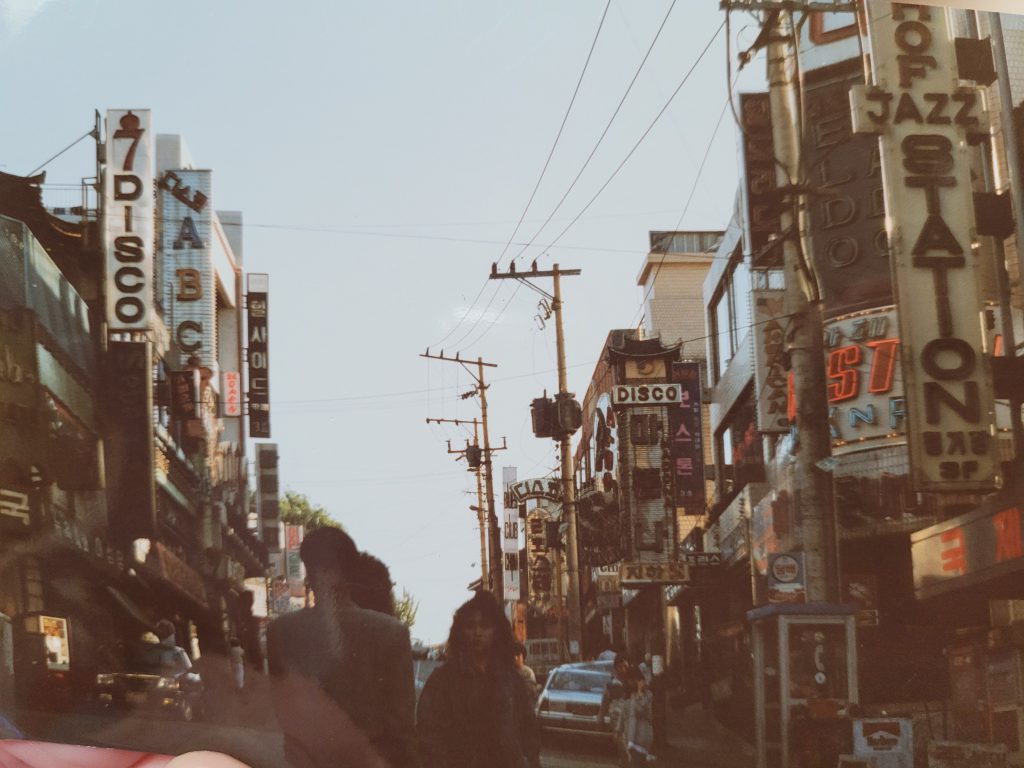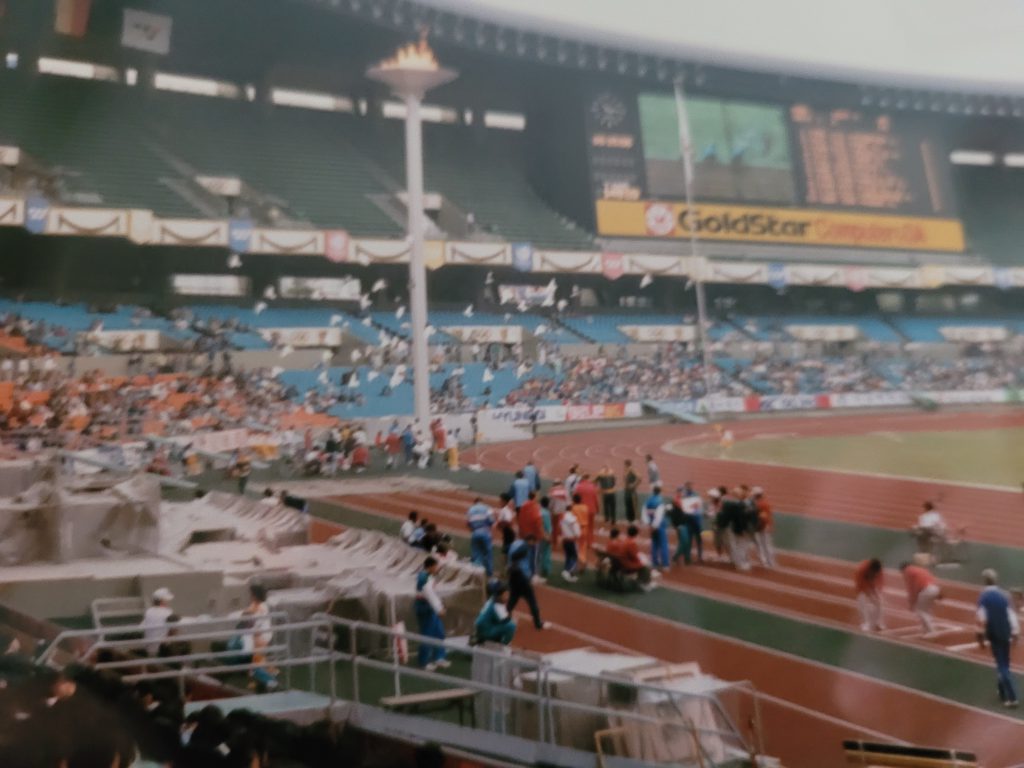 In part two of this this series, I'll take you on an inside look at being in Seoul, housing and shopping in the town of Itaewon. Many more good photos to come and as well some good experiences. I hope to have some "In their own words" stories up to post here too. I have a few call and requests out so stand by!