99 Los Angeles Marathon; Mendoza Captures 3rd title
For whatever reason, certain courses favor a particular athlete. Maybe it is just the time of year that they peak or perhaps its just that the race is perfectly tailored to their specialty. No one athlete has won as often or successfully defended their title at the City of Los Angeles Marathon than Mexico's Saul Mendoza. Beginning in 1997, Mendoza began a string of 5 consecutive wins in LA, sporting a best time of 1:27:07. For anyone who has raced this course you know it takes a solid strategy and a little luck to navigate your way through the varying conditions this marathon throws at you. Having covered this race from many perspectives including, in studio and from a motorcycle sidecar I can say that the city streets in LA are not of optimum quality. Frequent rain, lack of road repair, not to mention the grinding hills make this 26 miles at tough as they come. One of the qualities that is most admirable about Mendoza is that he won under any circumstances thrown in his path. I distinctly remember the conditions in 2000. Listening to the pounding rains on the studio roof and knowing how cold it was, it was clear the chair racers would suffer. It just never let up, and in fact it was so bad at time that the helicopters that carried the satellites had to reposition themselves as the signal went in and out. At one point I got a still shot of Mendoza crossing through a water channel in an intersection and quite literally one third of his rear wheels were under water! Mendoza knew how to capitalize on whatever condition he had to handle.
With nearly perfect weather condition and perhaps one of the deepest fields in the history of this race Mendoza had his work cut out for him. The man everyone literally feared, Switzerland Heinz Frei returned to LA to defend his course setting 1:27:10 performance in 1996. One interesting fact is that the course constantly was changing as the organizers of the LA Marathon grew obsessed with the creation of a fast course. Unfortunately, due largely in part to the hilly nature of this city, that would never be a reality. The video clip tells the story in many ways. Frei never let the pace slow but Mendoza played it cool just doing the requisite amount of work to stay honorable and throwing down savage attacks on the hilliest sections.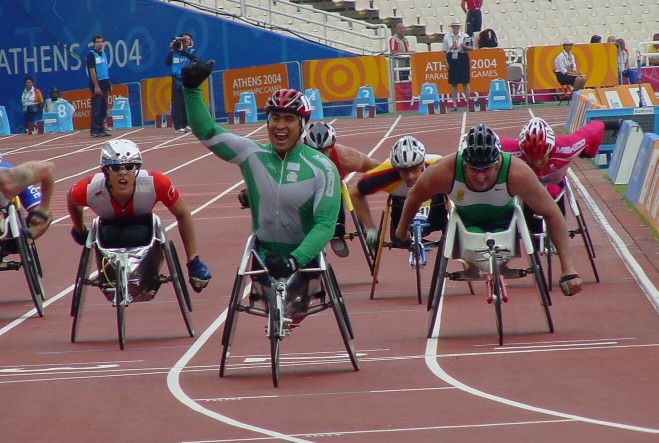 Mendoza takes Gold in Athens!
With the large pack broken it came down to 3, Frei, Mendoza and Arron Gordian. The reality of this situation was that Gordian, good as he was, could not win against the top tier talent he had managed to stay with. Mendoza launced his sprint first, with little doubt that Frei would make a solid run for the win. Too little, too late Mendoza broke the tape on his way to an unprecedented string of 5 straight LA victories. In many ways Mendoza had several significant victories in his long career, but he owned the Los Angeles Marathon. Winning the race 2 more times, 2003 and 2008, Mendoza solidified his place as a legend in LA's storied history.